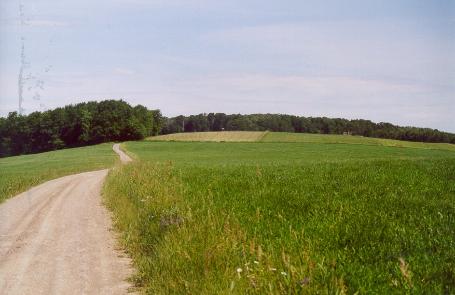 This photo shows the relatively flat area at the top of Eaton Hill (formerly Morgan Hill) that was cleared and under cultivation on June 19, 2001. Many of the hilltops in Cortland and Onondaga County in the 19th century were active farms, occupied mostly by Irish farmers. It wasn't the best land around and making a living was difficult. During the Depression of the 1930s most of the hill top farmers were foreclosed on for non-payment of their taxes. The State of New York acquired the land and began a Reforestation Program.

The Morgan Hill area, in addition to being part of the state Reforestation Program is also part of a network of nature trails. Along these trails one can still see the stone fences, reminiscent of those in Ireland, that mark the boundaries of these early farms. The foundations of long abandoned farm houses bear silent witness to the roots that our ancestors planted on Morgan Hill over 150 years ago.

All of the families listed in the left sidebar lived and farmed on
Morgan Hill - most were there at the same time and were
neighbors. The Comerford family had many girls and through
marriages that brought together the Ryan, McGrath, O'Brien,
Carr and Waters families. There are still some relationships that
need to be better understood but Ryans and Upperchurch
seems to be able to explain most of them.

Morgan Hill

Morgan Hill straddles the boundary between the Towns of Truxton and Cuyler in Cortland County


Copyright © 2006 - Michael F. McGraw