The Ryan Family of Fenner, Madison Co., NY
Michael J. Ryan and Johanna Dwyer & Family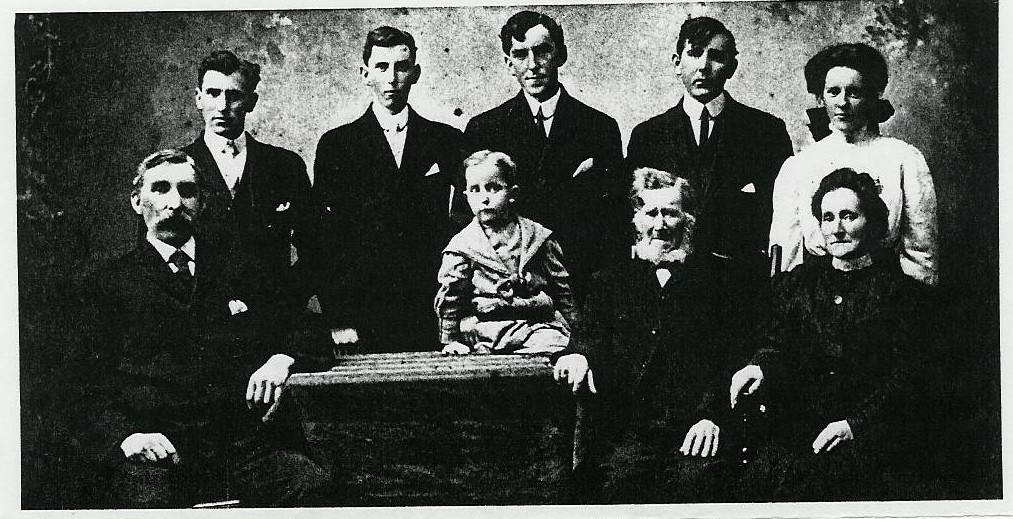 The Story of the Ryan Family of Fenner, Madison Co., NY
Catherine Ryan was the first descendant of the John and Margaret Ryan family to come to America. She was born in Upperchurch, Co. Tipperary in about 1833. Catherine arrived in the town of Pompey, Onondaga Co., NY prior to the census that took place in the summer of 1850. One story has Catherine being accompanied by someone who might have been her brother and could have been named Stephen Ryan.
The following information comes from an invitation to attend a family reunion for the descendents of Michael J. Ryan and Johanna Dwyer on Sunday, August 21, 1988.
"In 1867 Margaret Ryan (grandmother of the Durkin ladies) and Mary Ryan (grandmother of Mary O'Shea) sisters came to America. They worked and sent money back to Ireland to have the other members of the family come to this country. The following year 1868 their mother and father (James & Bridget Hayes) and their sisters Catherine and Bridget and their brother Michael J. came to central New York. They went to Edward and Catherine Ryan Brown's home south of Cazenovia. Later the Browns moved to Cortland and the Ryans settled south of Cazenovia in the Belmont area."

"We hail from Tipperary: We worshiped at the church in Upper Church. From Tipperary and Upper Church we brought the love of God, Family, Friend, Land and horses with us."

April 1867 – "Patrick Henry Ryan (son of John and Anna Ryan), Margaret Ryan and Mary Ryan left Liverpool. Their boat ran into another ship that was carrying meal and broke their ship's mast. The trip was supposed to take 11 days to cross the Atlantic, but took 3 weeks. After arriving in the United States, they took the train and then Shute stagecoach from Chittenango Plank Road. They arrived at Edmund and Catherine Ryan Brown's home in Belmont south of Cazenovia to stay. It is not certain if Patrick stayed there but he did go to work in Gooseville."
1868 – "Patrick Shanahan (son of John Shanahan and Mary Ryan, sister of James Ryan), James Ryan, wife Bridget Hayes, daughters Catherine Ryan, Bridget Ryan and son Michael J. Ryan and ( not clear if she came with them but mentions) Honora Ryan (sister of Patrick Ryan). According to Mary Ryan Kennedy, they arrived in Philadelphia on the ship Pennsylvania. The James Ryan family stayed with Edmund and Catherine Ryan Brown (sister of James) in Belmont, south of Cazenovia."
This is a picture of the Michael J. Ryan family in 1908. Seated, from the left: Michael J., Philip J., William Dwyer (father-in-law), Johanna Dwyer Ryan (wife). Standing, from the left: James P., Michael E., Anthony F., William J., and Elizabeth B.
Ryan Family Reunion invitation from 1988

Four Generations

Baby is my aunt Barbara (Rogers) Ryan. Standing my grandmother Mary (Heffernan) Rogers.

Sitting on right is my great grandmother that would be Barbara (Ryan) Heffernan. Sitting on the left is my gr. gr. grandmother that must be Mary ( Cosgrove) Ryan.

(Relationship info from Steve Ryan)

Bridget Ryan - 1936

Great Grandfather James Heffernan 1845 - August 24, 1905

On the back of the picture is written:

James Heffernan

Died Thursday August 24, 1905

at 3:30 P.M.
Copyright © 2006 - Michael F. McGraw