Revised: February 14, 2014
Before Halloween night in 1921 was over, Bruno Nistico would be laying on the ground behind the Faatz Hotel, on the old Cicero plank road, dying from a bullet wound to his head. Ironically it had all started as a trick that went bad. Bruno had promised a treat but delivered a trick. When Bruno tried to play the game one more time the trick was on him and he wound up dead. [Read more]
Sketches by Vic Lambdin, Herald artist, showing sequence of events in shooting. Below, left, Joseph Spoto, driver of the truck; right, John Timson, present at scene of tragedy.
A. Beam finds that Nistico has sold him water for liquor
B. Go between negotiates with Nistico, through a friend for two more barrels, to trap him.
C. Trio go to Faatz' to rehearse delivery of the barrels
D. Lookout outside of door at Faatz' announces approach of truck, to officers waiting – inside.
E. Nistico trapped at rendezvous, is shot during struggle that followed
F. Witnesses examined by district attorney
- Syracuse Herald, Syracuse, NY, Wednesday Evening, November 2, 1921
The Halloween Shoot Out at the Faatz Hotel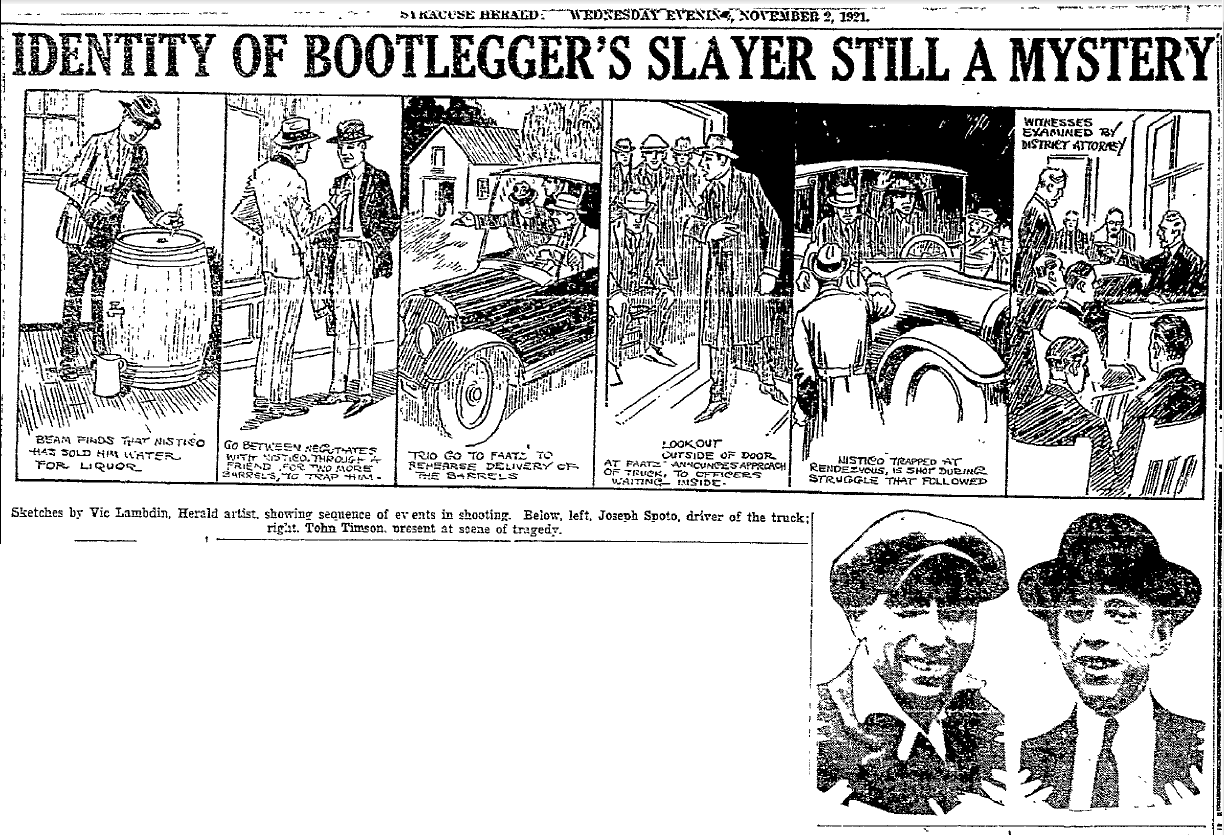 Captions – 1921-11-01 Bruno Nitisco Killed Near Faatz Hotel
Top, car which contained contraband, and spot, marked by Bruno Nitisco's hat, where he was shot. Below, another view of the same, looking toward the hotel.
Bruno Nitisco, the man shot, is shown at lower left, and Harry Beam at lower right.
NOTE: The Faatz Hotel sat on the Action Sports and Skate site. It was built in 1900-01 to replace the old Baum house (the Roselawn mansion) that had been converted to a roadhouse and which had been destroyed by fire on February 25, 1899. The Faatz Hotel under went many reincarnations over the years. On the night of April 19, 1958, while operating as Gatto's restaurant, it was destroyed by fire, as had its predecessor, on that same location almost 60 years before.