Buchanan Field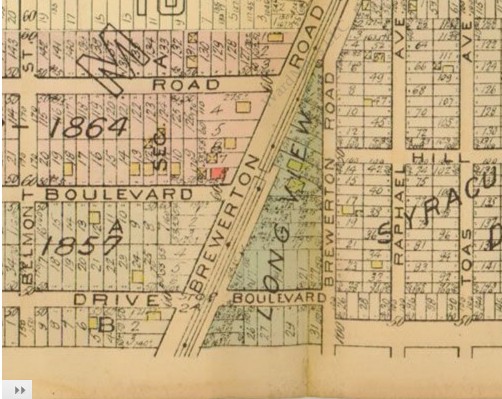 Buchanan Field was named after the man whose land on which it was established. It was the triangular piece of land between and south of where Brewerton Road and LeMoyne Ave. intersected. The 1927 map on the left shows that the land had a development plan and was named "Longview." The absence of a plan number indicated that an official plan was never filed with the Onondaga county. On the right is an aerial view of the area taken on October 15, 1951. The building are the Mattydale Shopping Center that opened in 1949.
Frank Buchanan was not a farmer, he was an Engineer and worked for the Crouse-Hinds Company at Wolf St and 7th North Street as Superintendent of the Headlight Division. Buchanan came to the Syracuse area around 1900 and raised a family of six children. Frank Buchanan died at the age of 68 on June 22, 1930. Prior to his death Frank Buchanan was one of the Trustees of the Salina School District No. 3. After his death his wife Jessie was elected as a Trustee.
The first event found at Buchanan Field was a baseball game on July 23, 1930. The last event found in the newspaper was a football game on Nov 1, 1948. The Buchanan homestead and other building were located on the northern portion of the triangular parcel of land. The southern portion was wide enough to accommodate both baseball and football games. By the spring of 1949 construction for the shopping center had commenced.