The Old Ball Park 1953 - 1958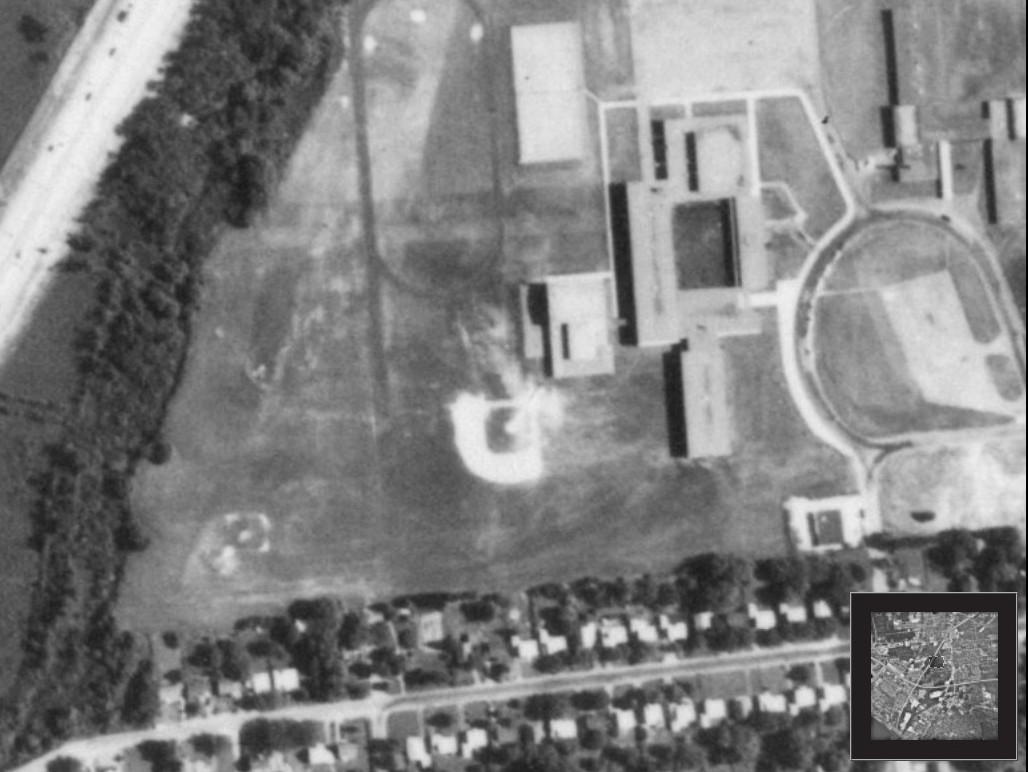 This aerial photo was taken on July 1, 1966 and it shows the area just north of Kirsch Drive where Roxboro Road Elementary and Middle Schools are located. In the Spring of 1953 the triangular piece of land in the lower left hand corner became the site of the old Mattydale Ball Park. There were about five ball fields at the height of the activity. There were two Little League fields in a row at the bottom, a Babe Ruth League field on the left just north of the Little League fields. Near the field there was also a softball field fro the Girl's League. Finally there was one or two smaller fields for the Midget League teams. These fields were near where the Middle School Gymnasium now stands. Right behind 326 Kirsch was the Concession Stand and Equipment Storage Building. The main entrance to the ball park was Biltmore Street and a chain link fence, with a gate, had been constructed across Biltmore at the entrance to the park. Each of the fields had a wooden backstop covered with chain link fencing. A lower wooden fence extended from both sides of the backstop along the 1st and 3rd base lines. Everything was painted green - most of the construction supplies had been donated - green must have been a slower mover at the paint store. The outfield fences were made of ______ . The two Little League fields and the Babe Ruth field formed a triangle. An imaginary line, drawn on each field, from home plate, passing over the pitcher's mound and extending out past the outfield, would all intersect at the flag pole. The flag pole was located just past the outfield fences of all three fields and on a line extended from Biltmore Street. On the opening day of the season all the teams would form up at the Mattydale Volunteer Fire Department and march over to the field, entering along Biltmore. They would assemble around the flag pole, in the area between the outfields, where there were a couple bulletin boards showing the game schedules. After a few short speeches it was tome to : Play Ball.

In 1959 the activities were transferred to a permanent location on the east side of Mattydale. That location was later named Burnham Field.

The large diamond near the southwest corner of the middle school gymnasium was built for the school and is not one of the fields from the old ball park. However, the diamond in the lower left hand corner of the school grounds could be left over from those earlier times. A Little League field had occupied that location. While the newer diamond displays evidence of maintenance to maintain its shape the older diamond is defined only by wear paths were the players had been standing or running.