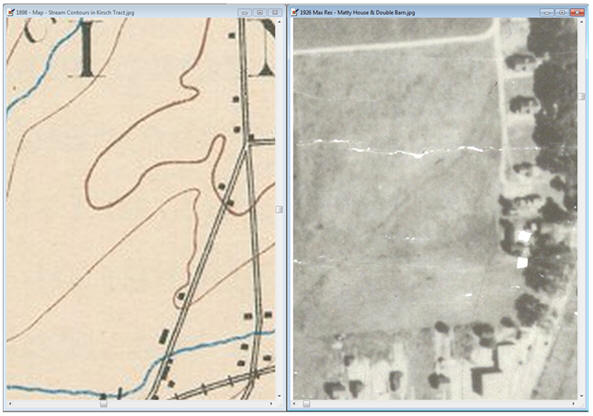 The image on the left is taken from an 1898 USGS topographical map. The photo on the right is from a 1926 aerial photo showing the same area of Mattydale as seen in the map on the left. In the 1898 map the old Cicero Plank Road can be seen entering from the center bottom of the map. The old State Road (Salt Road) is shown to the right of the plank road in the same map. Both roads intersect at Molloy Road, that is entering from the east. In the aerial photo on the right, what was the plank road can be seen in the lower right hand corner. The portion of this road, after the intersection with Molloy Road, is hidden by the tall elm trees shown along the right hand edge of the photo.
There was a story about a Bear Trap Creek tributary that was located behind the future location of the Hollywood theater. According to Rick Kazubinski, the tributary was filled in when the Kirsch farm was being readied to open for residential development in 1927. The contours, in the 1898 USGS map, show that the area is compatible with the existence of a stream. The shape of the contours narrow and point in the upstream direction. However, the location of the flow would make it a tributary of Ley Creek and not Bear Trap Creek.
The aerial picture was taken in 1926, probably in the summer or early fall since all the trees still have their leaves. The aerial picture shows that, indeed, there was a stream there. The dark meandering diagonal line, in the aerial photo on the right, is the lost tributary. When Rick first told me that story I had some doubts, but no more, I am now a believer.