Richfield Park
In September 1931, Mattydale School was bursting at its seams, as a result of all the residential development taking place around it. "A new school in the Mattydale section will have to be built next year on the newly purchased tract on the west side of the Syracuse-Cicero highway, school officials declared, after a record registration of more than 1,000 pupils was recorded at the opening this week of the Mattydale school in Malloy rd." [1931-09-03].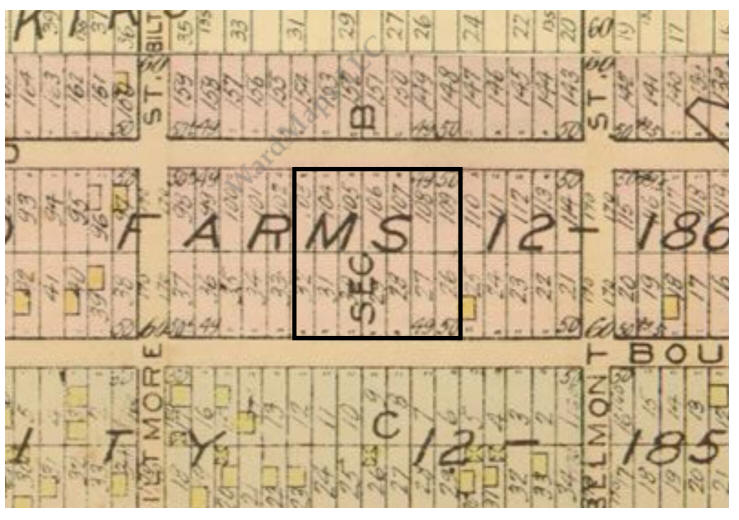 This is a portion of the Richfield Farms Tract from a 1924 map. The 14 lots purchased by the school district are contained in the dark black square.
These lots were purchased in early 1931 for a planned school on the west side of Brewerton road. The Great Depression brought an end to the growth and also removed the need for the new school. The School District owned Lots 26-32 and Lots 103 – 109.
"It is planned to have a junior high school included in the building in 1932, when the new grade school is erected on the west side of the state highway." [1931-09-03] But it never happened. Shown below is an aerial view of Richfield Park in 2012. This park was built on the lots that the school district had purchased in 1931 - but were never used for building a new school. A second school, on the west side of the highway, wasn't built until the mid 1950s when Roxboro Road Elementary School was built on Bernard Street.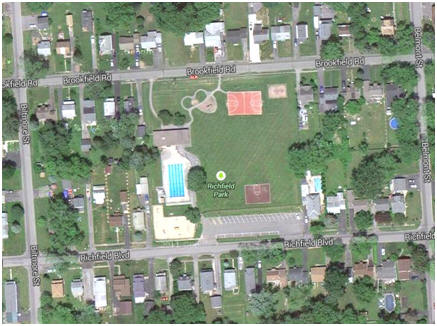 The is an aerial view of Richfield Park taken in 2012.
NOTE:
[1931-09-03] - "School Filled At Mattydale," The Syracuse Journal, Syracuse, NY, Thursday, September 3, 1931.