Connecting Across the Penal Times
The Object of the Penal Laws*
(1) To deprive the Catholics of all civil life
(2) To reduce them to a condition of most extreme and brutal ignorance
(3) To dissociate them from the soil.
Connecting Across the Penal Times
Overview
The purpose of this page is to provide a home for the collection of papers on this site which describe the challenge of tracing families back across the Penal Times. At present all the papers concern the McGrath families of Ireland, although other families could be added in the future. Making progress across the Penal Times depends greatly on luck and on the ability to assemble small bits of information to create larger pictures. The raw material comes from many sources such as gravestone inscriptions, estate records, obscure law suits, wills, and assorted genealogical records.
In the case of the McGrath families there is an advantage in the existence of considerable pre-Penal Times records. These exist in the form of family genealogies and pedigrees and the results of the Civil Survey of 1654-56. Therefore the push through the Penal Times, in the case of the McGraths, has the benefit of multiple target ancestors on the other side.
The Magrath and McCraith Families - 10-11-20 - NEW
While investigating the ancestors and descendants of Gamaliel Fitzgerald Magrath it was found that he was connected to the townland of Redmondstown, Kilgrant parish, Co. Tipperary. Later a Quin family was uncovered who had connections to Redmondstown and also to Loughlohery, Cahir parish, Co. Tipperary. There was a McCraith family who was connected to the Loughlohery townland since the 1670s. The obvious question is: Was Gamaliel Fitzgerald Magrath related to the Loughlohery McCraiths?
Ballynaclogh Magrath Family- 10-01-20 - NEW
It was possible to connect the Gamaliel Fitzgerald Magrath family to that of Miler Magrath. (See "The Magrath and McCraith Families"). In the process it was found that the family had been living in Ballyneety for some time. This was close to some of the land holdings of John Magrath (Miler Magrath's grandson) as described in the Civil Survey of 1654-1656. Ballyneety is also close to Ballynaclogh and in addition both Miler's family and the Ballynaclogh family used the same spelling of the surname — Magrath. The geographical closeness of Ballynaclogh and Ballyneety would indicate that if the Magraths of Ballynaclogh are truly descended from Miler Magrath then this would be the most likely branch of the family to analyze for possible connections.
Background:
Establishing Ancient Links - 05-18-20
Reaching Across the Penal Times - 06-30-20
Guide to the Magrath Land Holdings - 05-09-20
(The guide covers Miler Magrath's grandchildren based on the Civil Survey of 1654-56)
* - Lecky, W. E. H., History of Ireland in the 18th Century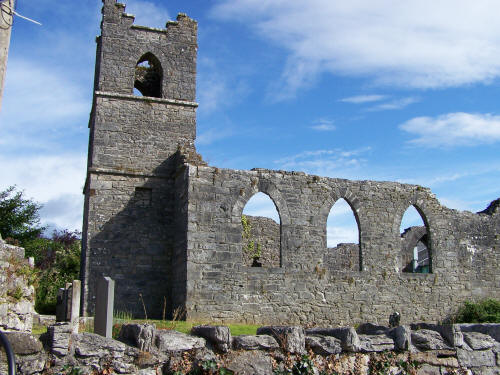 The picture above (2006) shows the remains of the old church associated with Cong Abbey in the town of Cong, in Cong parish, Co. Mayo.

Copyright © 2006 - Michael F. McGraw