<![if !vml]>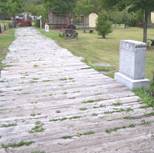 <![endif]><![if !vml]>

<![endif]>
This is a 1926 aerial view of a portion of the east side of Mattydale. The tree lined east-west road is E. Molloy Road. Mattydale School can be seen before it had the wing extensions built on. To the east of the school property is the Wright farm. This was the year that Albert Wright opened his farm for residential development.

The north-south row of trees marks the boundary between Lots #3 and #18 on the west and Lots #8 and #19 on the east. East Molloy Road, from the southwest corner of Wright's farm (about a block east of Mattydale School), to Town Line Road, is the boundary between Lot #8 on the north and Lot #19 on the south.

This is a blow up of the 1926 picture above.
This is another blow up of the 1926 picture above and goes right out to the edge of the original photo.
This is an aerial view of the same area on October 15, 1951. Mattydale School now has its extension wings. E. Molloy Road is running east and west along the bottom of the picture. The north-south line of trees is still there and at the intersection of those trees with E. Molloy road is the old Wright homestead. The old Wright farm is now covered with many houses.