STORY
In October of 2010, I was reading a Wikipedia article on Tipperary Hill in Syracuse, NY. The article included a reference to the fact that a large number of persons who had settled in Pompey, NY had come from the Upperchurch area of Co. Tipperary in Ireland. That statement referenced a St. Patrickís Day article in the Syracuse paper from 1977. I looked up the paper and it was a long article with many quotes, including the Upperchurch reference, by a Dr. Robert Conan who was a Chemistry professor at LeMoyne College in Syracuse. I wasnít aware that anyone else had discovered the large concentration of former Upperchurch residents that had settled in the southern part of Onondaga County, at least not that early.

I tried to find Robert Conan and discovered that he had died in Syracuse on November 8, 2002. He was survived by a brother, Paul Conan of Camillus and some nephews and a niece. My next thought was about what happened to all his genealogy research papers? I tried the Onondaga County Historical Society and the Syracuse University Archives and they didnít have any of Robert Conanís papers. The Onondaga Public Library and the LeMoyne College library never returned my phone calls.

The trail was dead, literally - so I started looking for his ancestors to determine Robert Conanís connection with Upperchurch. He had mentioned Pompey so I looked there first.... To read more
The Conan Family of Foilagoule

Moyaliff parish, Co. Tipperary

The Conan Family Homestead at Foilagoule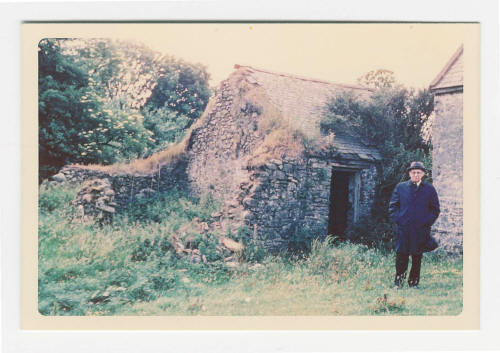 Robert J. Conan, Sr. in front of the Conan homestead at Foilagoule, Moyaliff parish, Co. Tipperary, circa 1970.
Photo courtesy of Paul Conan, Jr.
Jerry Conan and Winifred Walsh had at least six children and all of them, with the exception of Larry, immigrated to the town of Pompey, Onondaga Co., NY. Mary Conan and her husband John Maher were the first to arrive in 1850. They were followed by Maryís brothers, James in 1852, John in 1855, and Jerry by 1860. The youngest member of the family, Honorah, was in Pompey by 1863.
Copyright © 2006 - Michael F. McGraw