The real Frederick Fuller family was living in the town of Clay in 1900, about a dozen houses from Samuel Fergerson. In 1910 they were living on Molloy Road, between Albert Wright (3 away) and James Molloy (2 away). It was assumed that they had moved there shortly after 1900. When his wife Ellen died on Thursday, May 30, 1918, the family was living at 309 School St., in the village of Geddes. In November 1918, Lawrence Fuller was living in East Syracuse. When Marguerite Fuller died on September 29, 1919, as a result of an automobile accident, the family was living at 311 7th North Street. At the time of the 1920 census (January 1) Frederick was living at 311 7th North Street, as was his son, 19 year old Lawrence. When 14 year old daughter Lucy died in early February1920 she was living in East Syracuse, NY. Frederick Fuller died after a lingering illness in October 1921. This family had four immediate family members die in just 41 months. The fictitious Clyde Fuller was in the Army during the Great War and resided with his sister's family on 7th North Street after his discharge from the Army.
Where the Fullers Lived in 1919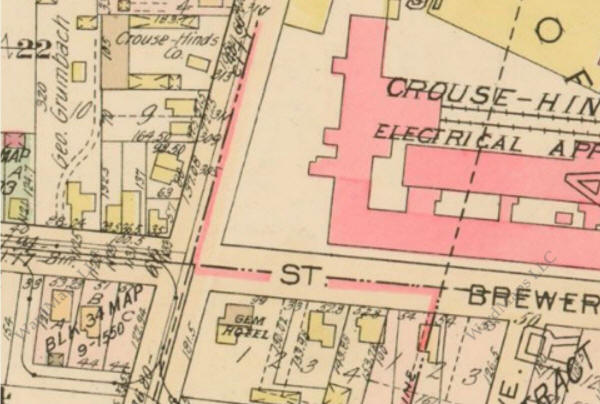 This section of a 1924 map shows the area around the intersection of Wolf St (which becomes Brewerton Road) and 7th North Street. Wolf St. is running horizontally and 7th North Street is running vertically. The map is oriented so that north is to the right. The Fuller household was at 311 7th North Street and is the fifth structure from the intersection on the left side of the street. It abuts the property labeled Crouse-Hinds Co. Across 7th North St. is the main Crouse-Hinds building appearing much the same as it does today. In the northeast corner of the intersection is the "Gem Hotel" which was formerly the old Pard Orton's Roadhouse.
Approximate Location of 311 7th North Street - June 2014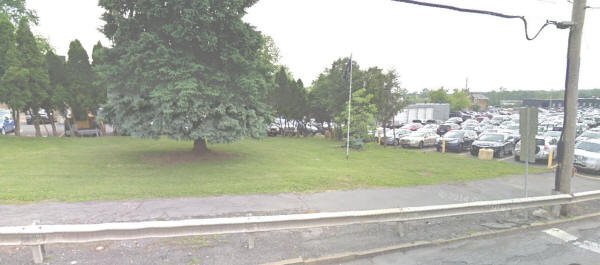 This is the scene today as seen from 7th North Street looking into the area where the Fuller home at 311 7th North St. was formerly located. The parking lot shown on the right side of the picture is occupying the area that was shown as "Crouse-Hinds Co." in the 1924 map shown above. It is still owned by the company and is used as an employee parking lot.
Intersection of Wolf and Spring Streets and Salina School - 1924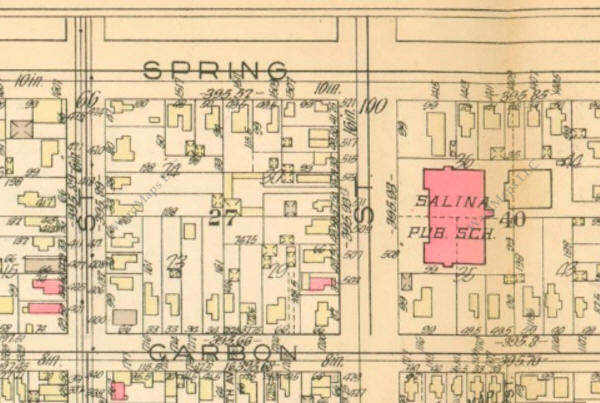 This view of the 1924 map shows the intersection of Wolf and Spring Streets, where Marguerite Fuller was struck by the automobile operated by Theodore Faatz as she exited the Wolf Street trolley on September 29, 1919. It also shows the Salina School that was her destination as she returned to school after going home for lunch on that fatal day..