Miles Adams Family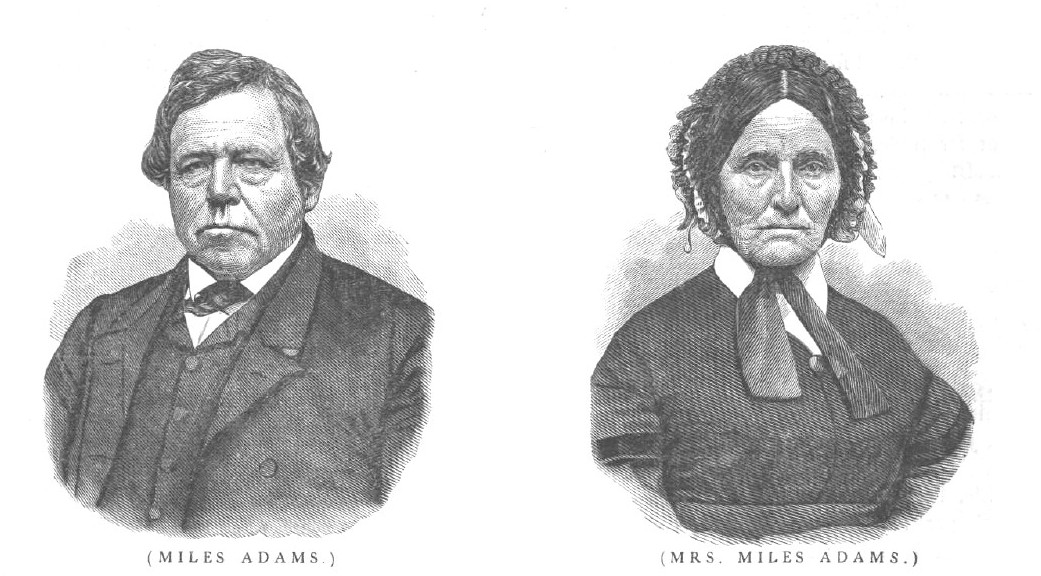 Source: The History of Onondaga County, New York with Illustrations and Biographical Sketches, by W. W. Clayton, D. Mason & Co., Syracuse, NY, 1878, p. 265
Connection to Mattydale
In 1839 Miles and his family came to Salina and purchased the farm where he was living until his death in 1884. Miles was the Salina Town Supervisor in 1848 and he also held other minor offices.
Family History
Where did they originally come from
Miles moved to Washington Co., New York, with parents, when 5 years old. He left home at age ten. In 1822 was a foreman of a force of men in Saratoga Co. building the Champlain Canals.
Where did they initially settle
In 1824 to Town of Onondaga and bought 40 acres. In 1830 Miles moved to the Town of Otisco and on April 22, 1835 he purchased 100 acres for $2500 and continued as a farmer until 1839. In 1839 came to Salina.
Family connections
Miles Adams was born in Dutchess Co., NY and was NOT related to his next door neighbor to the south, Richard Adams of Rensselaer Co, NY.
Property History
In 1839 Miles Adams purchased 132 acres of land in the southeast corner of Salina Lot #3 from Ashbel and Susan Kellogg. In 1817 Kellogg had purchased all of Lot #3 for $185, during a forced sale by the local Sheriff and over the years he had been selling off portions of Lot #3 to the late comers. Sometime prior to April 1862, Miles and his wife Isabel sold the land to their son Willard, who then died shortly thereafter. In 1867 Miles and Willard's estate sold the land to Perry H. Hinsdell, Miles' son-in-law, who had married his only daughter Sarah. Perry Hinsdell died in 1907. This land eventually became part of the Hindale Farms Tract in 1920.
Notable Facts or Events
In September 1859 the Sabbath School of the First Ward Presbyterian Church held their annual picnic at Miles Adams' Grove. The reporter sent to cover the event must have been a recent graduate, anxious to apply his classical learning to a rather mundane event. The reporter wrote more about the grove than the picnic [1859-09-05].
NOTES:
[1859-09-05] - Miles Adams' Grove - The Central Courier, Syracuse, NY, Monday, September 5, 1859