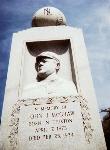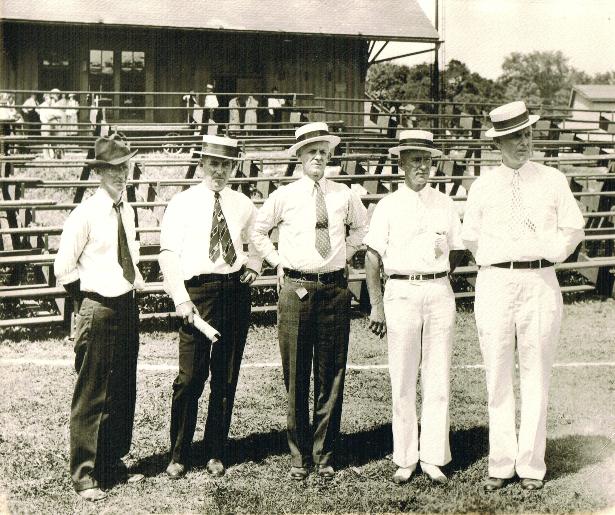 The memorial monument to John J. McGraw located in the center of the village of Truxton, Cortland Co., NY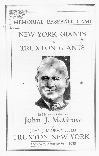 The program from the Memorial Baseball Game played at John J. McGraw field in the village of Truxton, on August 8, 1938.
The McGraw brothers: Bill, Tom, Ed, Jim and Art - sons of Michael McGraw and Alice Rooney. The occasion was the Memorial Baseball Game played in Truxton between the New York Giants and the home team - The Truxton Giants. The money raised at the game was to go toward a monument in memory of their first cousin, John J. McGraw, to be erected in the center of the village of Truxton. The date was August 8, 1938.
.
The Short Version of the Story
The ship named British Queen sailed from Dublin and docked in New York on November 7, 1850.
On board were Mary Ryan McGrath and her two young sons Michael, age 7, and John, age 6. They had come to America to reunite with husband and father, Edmond who had arrived two years earlier on board the New Hampshire.
Missing was their eldest child, daughter Margaret McGrath. If she had begun the voyage with her mother and brothers and died during the voyage then her name would have appeared on the passenger list. Her absence from this list indicates she may have died prior to the voyage since at age 8 she was too young to leave behind on her own.
Although Edmond arrived in America in November, 1848 he didnít arrive in the Town of Truxton, later called the Town of Cuyler until, March, 1855, according to the 1855 NYS Census. A careful search of the 1850 census records for the Counties of Onondaga, Cortland and Madison turned up no evidence of Edmond, his family or Mary Ryanís sisters Margaret and Catherine. Margaret Ryan married John Tobin at St. James Church, Cazenovia on March 8, 1854. Edmond and Mary were probably in Onondaga County prior to Margaret Ryan Tobinís marriage. This pushes the date of their arrival in Onondaga County back to early 1854.
The family was living on Morgan Hill, Town of Cuyler, from 1855 until 1868, After son John returned from the Civil War Edmond, Michael and John bought 225 acres of land in the far northwest corner of the town of Truxton, just southeast of the village of Tully, on Kettlebail Road. The family lost the farm to foreclosure in August 1874 in the financial turmoil that followed the Panic of 1873 and were scattered. Michael, who was single, went to work as a farmhand in the town of Tully. John probably began working for the railroad to support his wife, the former Ellen Comerford, and their two young children. Edmond and Mary probably went into retirement and were living on a very small farm on Shackham Road at the time of the 1880 census.
The McGraw Family of Truxton

The grandchildren of Edmond McGraw and Mary Ryan

.

Copyright © 2006 - Michael F. McGraw
The Five McGraw Brothers at the Memorial Baseball Game - Truxton - Aug. 8, 1938
| | |
| --- | --- |
| The old McGraw homestead that was located at the corner of Main and Prospect in the village of Truxton. The family lived there from about 1915, soon after their farm house on the North Road was destroyed by fire, until the death of Alice Rooney McGraw in 1940. Alice's sons, Tom and Bill McGraw, became the new owners in 1938 and after his marriage Bill and his wife became the owners. After Bill's death in 1959 his wife and daughter remained in the house until the mid 1970's. This photo was taken in 1983. | The corner of Prospect of Main today (1999). A memorial to local resident Andy Tei |
| The old Kenney store on Main Street, Truxton, NY (1983) | This is the site of the McGraw farm house on the North Road at the intersection of the North Road and Dobbins Road (2001). This structure was destroyed by fire in about 1915. (Click to enlarge) |
| Alice Rooney McGraw and her eight surviving children around 1925. From left to right Edmond (Edward), Bill, Tom, Alice, Agnes, John Arthur (Art), Alice, Jim and Isobelle (Mayme) | Michael William McGraw (1843-1923) was born in Drumdiha, Moyaliff, Co. Tipperary. He came to America with his younger brother John William (1844-1927) and their mother Mary Ryan McGraw (1805-1899) on board the British Queen. They landed at NYC on November 8, 1850. Their father Edmond William McGraw (1813-1899) had arrived over two years earlier on the New Hampshire, arriving at NYC on November 28, 1848. |