Upperchurch Ryan Connections - Introduction
The chart below summarizes the connections of five individuals to common ancestors. My connection to Ryan 1 was originally discovered by Con Ryan of Glown and his late cousin Michael Quinlan in the Upperchurch parish records back in 2000. Between 2010 and 2015 Roger Hoffmann and I had exchanged information in an unsuccessful attempt to find a connection between our Ryan ancestors who had both come from the Upperchurch area and both had settled in Syracuse, NY. By early 2017 I had transcribed baptism records from the parishes around Upperchurch from the parish registers and reformatted that information into family trees. These trees were posted on my website (http://mcgrathsearch.com) under the "Families in Ireland" web page. It was hoped that this would facilitate others in finding their own connections to the Upperchurch area. In the "Family Connections" section under "Families in Ireland" there are links to documents that describe the status of several of these efforts.
<![if !vml]>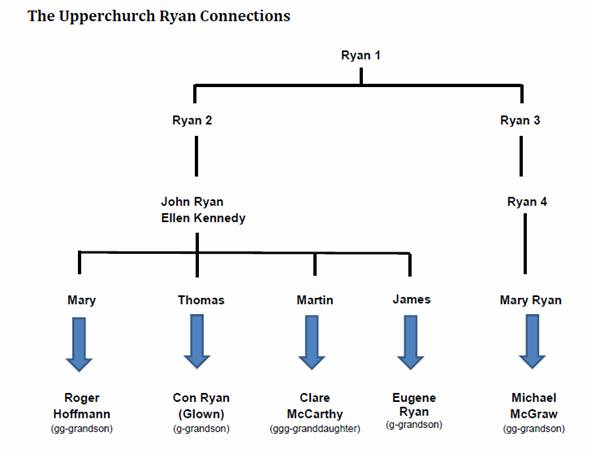 <![endif]>
In July 2017 Clare McCarthy found a DNA match with Roger Hoffmann. This match focused the search for her mystery grandfather Edward Lee on Roger and his connection to the Upperchurch area. She eventually tracked down an Edward Lee with ties to the Upperchurch area but unfortunately he had passed away several years ago. However, she was able to find one of Edward's brothers who agreed to do a DNA test, the results of which showed that Edward Lee was indeed Clare's grandfather. Now Roger and I had a third person with a connection to Upperchurch. In early December Clare received another match to her DNA results which she had submitted to MyHeritage. This was Eugene Ryan and his paper trail contained the connection that she and the rest of us had been seeking.
During the second week in December Clare shared her family tree containing Eugene Ryan's new ancestor information with Roger and myself. This contained the descendants of John Ryan and Ellen Kennedy and this information turned out to be the missing link in Roger's genealogy and also in mine. Roger was the first to notice that John and Ellen's daughter Mary was the wife of his John Ryan. It wasn't until the next day that I was able to see my connection with John and Ellen Kennedy.
In the above connections diagram the addition of the names Ryan 1, Ryan 2, Ryan 3, and Ryan 4 is for the convenience of visualization and for generation counting. Although Ryan 1 is shown above as the common ancestor, at this time there is no proof that this common ancestor is named Ryan. It is possible that Ryan 2 and Ryan 3 were not siblings and instead two unrelated Ryan men had each married women who were sisters. That situation would also produce the relationships displayed in the above diagram, but with a different common ancestor.
Hyperlinks
Michael McGraw - McGrath and Ryan
Roger Hoffman - Ryan and Kennedy
Descendants of John Ryan and Ellen Kennedy