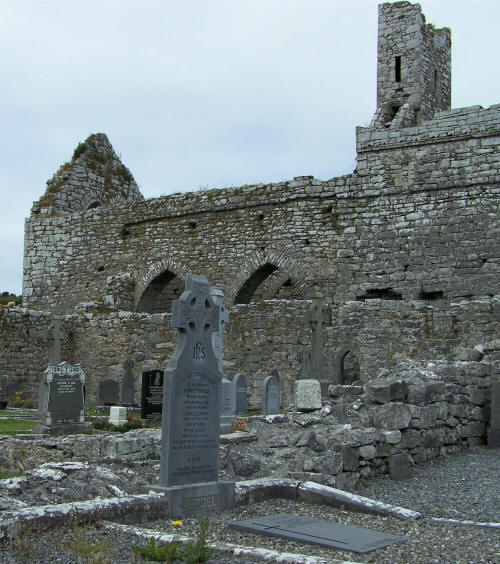 Shown above are the ruins of Corcomroe Abbey located a few miles west of Kinvarra, Co. Galway which date from at least the 12th century. A famous battle between
two factions of the O'Brien family took place on this site in 1317. Members of the Macraith family fought on the side of the descendants of Turlough O'Brien.
After the battle the dead were buried on the grounds of the abbey. A detailed account of the battle is contained in "The Battles of Turlough" (Caithreim Toirdhealbhaigh) written in about 1369 by Sean McCraith, a descendant of participants in the battle.

The Story Behind Upperchurch Connections


We arrived in Ireland, in the summer of 1997, knowing that Edmond
McGrath had come from Upperchurch, Co. Tipperary around the early
1850s and that was about it. On a rainy day we visited Upperchurch,
wandered through the graveyard where there was a sea of Ryan
headstones and took a few pictures. During the second week of our
trip, while wandering through the Ennis Bookshop on Church Street, an
oversized magazine with a pen and ink drawing on its white cover
caught my attention. The publication was the journal The Other Clare,
published annually by the Ennis based Shannon Archaeological and
Historical Society. An article named "Islandmagrath and the Macraith
Family" by Paddy Connors caught my eye.
A reference at the end of the one page article on the history of the
Macraith family led to the Local History Center there in Ennis, and to the
Pedigree of the Macraith Family. The librarian, Maureen Comber,
offered to make copies ……
[More}

Copyright © 2006 Michael F. McGraw